News
Rutledge Wood to Star at Keystone BIG Show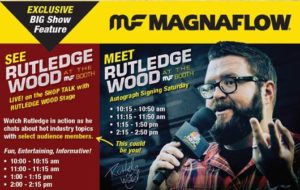 Visitors to the 2019 Keystone Automotive BIG Show at the Gaylord Texan are in for a special treat. Rutledge Wood, industry ambassador and acclaimed TV personality, will be taking center stage at the MagnaFlow booth in a new show feature called BIG Show Shop Talk with Rutledge Wood. During the event on Saturday, March 9, Rutledge will bring his down-to-Earth and fun interview style to engage with show attendees about hot industry topics.
"Rutledge has a smart and friendly way of getting at the heart of what matters to not only the enthusiasts in our market but those of us that support their passions," said Larry Montante, vice president of category management at Keystone Automotive Operations. "We appreciate MagnaFlow sponsoring Rutledge and are really looking forward to hearing and seeing his interviews. They are sure to be entertaining and provide some keen insight into what is important to our customers and how they see the industry moving forward. For those lucky enough to share the stage with him, it will be a very big deal."
The BIG Show Shop Talk interviews will have a question and answer format and will be livestreamed to locations throughout the show floor and broadcasted on Keystone Automotive's social media feeds.
"This is such a special feature at the BIG Show this year we wanted to be able to share Rutledge's interviews with as many people as possible," Montante said. "Broadening the experience and audience for our event makes the BIG show even bigger."
The BIG Show draws thousands of attendees from the U.S. and Canada. Host to more than 200 exhibiting companies, nearly 100 show vehicles and an agenda packed with special events and networking opportunities, the BIG Show is set for March 8-9 in Grapevine.