News
Running on All Cylinders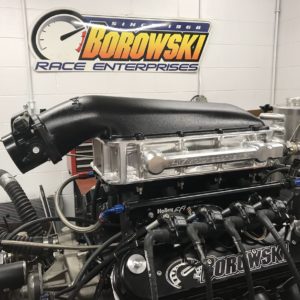 Most shop owners know that the hardest part of running a successful business is hiring and retaining reliable, skilled employees who are who not only good at what they do, but who are also a nice fit for the business.
Hiring can be like a roll of the dice: sometimes you win, most times you lose.
At Borowski Race Engines, much of that hiring guesswork is being averted due to the implementation of pre-employment assessment tests that help determine the personality and productivity potential of the individual in a given work environment.
"You've got a higher probability of success when you know who you're working with," said Joe McCaul, co-owner of Borowski Engines, based in Joliet, Illinois. "We can assess entry-level hires and see their expected workplace productivity profile. For me, if the person doesn't have the aptitude to do something, you can train them 'til the cows come home but it would be a waste of time and a waste of money and nothing but frustration for them because they won't get it and never will get it. You're expecting to squeeze blood out of something that isn't there."
ONLINE TEST
In administering the assessment tests, McCaul is drawing upon his decades of experience at the highest levels of the corporate world, both as an executive and as a mergers and acquisitions specialist. The multi-level tests are administered online through Criteria Corp. and typically take an hour or so to complete.
"I don't think people who have grown up in the small business world have ever seen or been exposed to the things that you get working at the VP level at major multinationals; it's a different ballgame," said McCaul, who co-owns the company with his son Ken. "My concept since I left the corporate world was to apply those high-end tools and methods to small and midsize businesses. Working with an industrial psychologist and standard online assessments is something that I've been doing now for more than 20 years."
The results can be seen in the monumental success of Borowski Race Engines, where 20 employees specialize in building engines for street, race and marine applications. In 2018, Borowski was named 2018 Race Engine Builder of the Year by Engine Builder magazine. The company has also recently been selected by David Ankin to build the ProCharged/nitrous LS power plant for the 1941 Willys featured in the season finale of the History Channel's ToyMakerz television show.
"Our strategy was to grow it by creating a virtuous cycle of purchasing advanced machinery, attracting top talent and marketing to secure the best customers," said McCaul. "Long story shortened: the business has since enjoyed an AAGR (Average Annual Growth Rate) of more than 100% and now has the most advanced engine equipment available on the market today."
And it's not just the potential new hires who take the assessment tests-"all Borowski employees have participated.
"In the corporate world I had found that it was very beneficial for the organization to bring in an industrial psychologist to help figure out who is who and what their capabilities are," McCaul explained. "You can learn how to best interact with people and use that as a tool for hiring or promotion to try to get people into the right seat on the bus."
NECESSARY FOR GROWTH
McCaul said that the biggest challenges for his and most shops is the difficulty in hiring, training and directing staff into a high-performing unit, while also adjusting to the challenges of expanding a company.
"Growth creates a series of additional challenges in any business as it must be fed by ever-expanding capacity," said McCaul. "Maintaining a leadership position in our field requires us to be in close contact with both our vendors and market. We have been early adopters of numerous product introductions and have done a lot of our own R&D to figure out what really works best."
All the trends seem to be revving upward in the race engine world, said McCaul, with increasing horsepower and ease of use being the top factors. Borowski's main focus is on the LS engine market, where aftermarket options are plentiful.
"The aftermarket has been a fountain of products (parts and electronics) that allow us to continuously raise the performance bar," he said. "A big factor for us jumping into the LS crate engine market in the first place was when Dart Machinery told us of their plan to introduce the LS Next block."
The company chose the LS engine family as a focal point of its business several years ago after recognizing its market potential. "The aftermarket vendors were clearly focusing on it, LS swaps were getting into vogue and the old school engine builders were happy staying with their SBCs, BBCs, etc.," he states. McCaul pointed out that another major part of the business is advanced automotive machining for on-road and industrial engines, which have stringent quality requirements and rapid turnaround times.
"Over the last several years, we have become increasingly focused on new-build, high-end LS engines that we can deliver on short lead times through maintaining an inventory of critical parts," said McCaul. "The two sides offer significant synergy, as they both benefit greatly from access to advanced CNC machinery and share a fixation on safety and quality."
McCaul drew upon his background as an engineer with large-scale manufacturing companies to organize the shop's equipment and processes.
"We rely on inventory and common architecture for short lead times using parts from a limited number of carefully vetted suppliers," McCaul said. "High-end products of any kind are discretionary purchases typically made by sophisticated buyers. The strategic plan of the virtuous cycle was focused on allowing us to be the best in our field."
And it all starts with a simple personality assessment test.