News
Rugged Ridge Unveils Recovery Tool Rack for Jeeps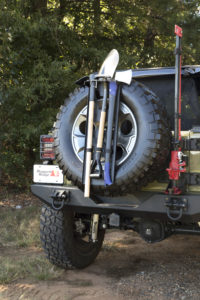 Rugged Ridge has made available its new Recovery Tool Rack for various Jeep applications.
The Rugged Ridge Recovery Tool Rack is engineered for the Jeep owner who wants to equip their vehicle for off-roading or any outdoor adventure. The design focuses on practical and convenient storage of tools while not sacrificing interior space, according to the company.
The Recovery Tool Rack is stamped from durable steel plating and is finished with a resilient black powder coat, protecting the body of the rack from rust and corrosion while giving it an attractive appearance. The rack is fitted with three individual slots in which a variety of tools can be mounted for transport, with the tool handle secured via the included retention straps for a rattle-free ride.
The Rugged Ridge Recovery Tool Rack utilizes a built-in plate that attaches directly behind the rear-mounted spare tire. With a universal mounting bolt pattern, the rack is able to mount to any Jeep wheel bolt circles, making it compatible with any Jeep with a spare tire carrier, regardless of year.
For more information, contact Rugged Ridge at 770-614-6101 or visit RuggedRidge.com