News
Rugged Ridge Has Jeep Gladiator Covered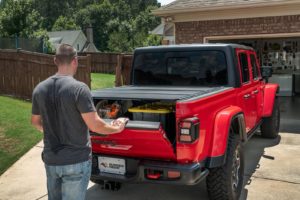 Rugged Ridge has launched its full line of Armis Truck Bed Covers for the new 2020 Jeep Gladiator truck.
The new Rugged Ridge Armis truck bed covers-made in the U.S.-include soft and hard covers in a variety of roll-up and folding designs.
The Armis Soft Folding Bed Cover is a contoured, low-profile folding cover constructed from aircraft-grade aluminum frame and finished with a dirt-resistant, matte-black woven fabric designed to blend seamlessly with the factory trim, according to Rugged Ridge. Double-pivot hinges allow for smooth folding of the panels while weather-tight seals provide ultimate protection from the elements.
The rolling cover features an Automatic Tension Control to maintain a snug fit across a wide range of temperatures and weather conditions. The included Armis Quick-Release System allows the cover to be removed or installed in minutes without tools, according to the company.
The Armis Hard Rolling Bed Cover is crafted from heavy-duty aluminum slats. Each slat is pressure-bonded to a sleek, matte black exterior weave, according to the company.
The Armis Hard Folding Bed Cover-featuring tri-fold design that folds forward fully to the back of the cab-comes with LINE-X coating.
Rugged Ridge also plans to release the new Armis SwingCase for the Jeep Gladiator later this summer. The storage component mounts just inside the tailgate and swivels outward for retrieval of tools and gear stored inside. A twist lock helps keep cargo secure, while the pull-action lever provides easy access to the SwingCase without the need to climb into the bed.
Visit RuggedRidge.com or call 770-614-6101 for more information.