News
Rugged Ridge Debuts JL Wrangler Tube Doors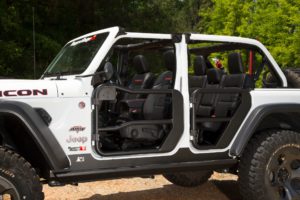 Rugged Ridge now offers new front & rear tube doors for 2018 Jeep Wrangler JL/JLU models.
The doors feature a new design that incorporates a single-piece tube around the outer perimeter of the door and a contoured latch plate that gives the door a strong appearance, according to the company. High-quality rotary latches and rubber bumpers provide a secure closure for rattle-free performance.
Constructed from 50mm OD steel tubing, 12-gauge steel plate and finished with a black textured powder coat, the doors are made to offer rust-resistance.
Installation of Rugged Ridge Tube Doors is simplified with fully-adjustable hinge pins that match factory JL hinges, according to Rugged Ridge. The doors are sold in pairs and are available with or without side mirrors.
Contact Rugged Ridge for more information at 770-614-6101.