News
Rugged Ridge Completes Line of Jeep Wrangler Floor Liners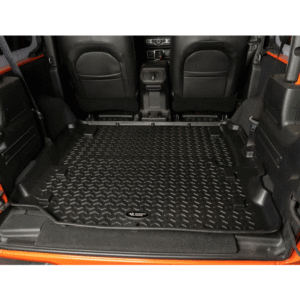 Rugged Ridge, a Truck Hero Inc. company, has debuted its new Cargo Area Floor Liners for 2018-'19 Wrangler JL two-door models.
Rugged Ridge's All-Terrain Liners are engineered to offer complete interior floor protection suitable for everyday use, according to the company. Each liner features Deep Tread technology, with a newly-refined chevron pattern to channel away moisture, a design specifically developed with the off-road enthusiast and outdoorsman in mind.
Rugged Ridge's All-Terrain Floor Liners are injection-molded. This molding process creates a liner that delivers an extremely precise fit and a deeply formed perimeter wall to contain water, mud and slush, according to the company.
The new All-Terrain Cargo Liners are available in a full-length version, offering protection from the tailgate to the back of the front seats, and a shorter version, designed for owners who wish to maintain their rear seat assembly.
Call Rugged Ridge at 770-614-6101 for more information or visit RuggedRidge.com.