News
Rugged Ridge Blazing a New Trail This Summer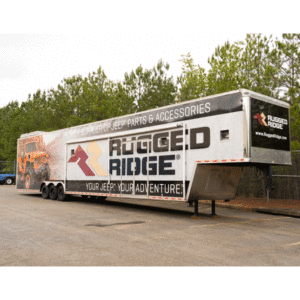 Rugged Ridge has expanded its nationwide events schedule for this year. The Truck Hero brand has bolstered its fleet of show vehicles this year thanks to the addition of a new trailer.
The Rugged Ridge team has already participated in a number of major events across the U.S. in 2019, including Myrtle Beach Jeep Jam, Easter Jeep Safari and Jeep Beach. The company's expanded fleet will help display new products and accessories at upcoming Jeep events nationwide.
Rugged Ridge will take on a continuously expanding Eastern U.S. show circuit with a Volvo VN cab and a 50-foot trailer. The trailer features a custom wrap, showcasing the company's updated modern Rugged Ridge logo and the Your Jeep. Your Adventure slogan. Also emblazoned on the trailer is a vibrantly colored 2018 Jeep Wrangler JL and Moab, Utah desert cliffs imagery.
Rugged Ridge also will tackle the Western U.S. show circuit with a similarly embellished 53-foot custom tri-axle trailer, featuring the updated Rugged Ridge livery.
The Rugged Ridge 2019 show and event calendar includes:
Visit RuggedRidge.com for more information or call 770-614-6101.