News
Rugged Ridge Accessory Brings Out the Rear on Jeep Gladiator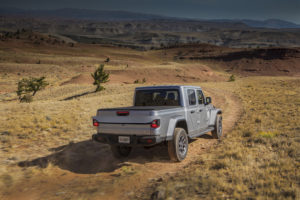 EDITOR'S NOTE: The following edited press release was offered as a joke on April Fool's Day by Rugged Ridge
Rugged Ridge has released an all-new tailgate styling treatment for new 2020 Jeep Gladiator truck models. Designed with the forward-thinking Jeep enthusiast in mind, the Rugged Ridge Barbarian Tailgate Protrusion is a jaw-dropping bulge that adds a distinct look of power and primal brawn to what is already a stunningly muscular design.
Crafted from a highly-durable yet lightweight ABS polymer-resin, the Barbarian Tailgate Protrusion installs easily with the included hardware and is available in a wide array of OE colors for a factory-quality appearance.
"As soon as I saw the new Gladiator unveiled, I just knew the potential was there," said Phred Wilyumz, well-respected off-road journalist at Engine Trend Group. "I think the design is not only ingenious, but so bold a statement as to border on brazen. I'm gonna want to drive this thing backwards…I'm truly excited!"
Rugged Ridge Barbarian Tailgate Protrusion for Jeep Gladiatormodels is backed by an industry-leading five-year limited warranty and is available online and through select Jeep, off-road parts and accessories retailers nationwide with a starting MSRP of $299.98.
For more information on these, or any of Rugged Ridge's complete line of high-quality Jeep and off-road parts and accessories, or to find an authorized retailer, please contact Rugged Ridge directly at 770-614- 6101 or visit RuggedRidge.com.