News
RSI to Introduce SmartCap, Announces Exclusive Partnership with Keystone Automotive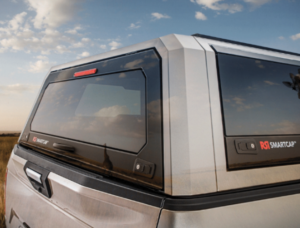 RSI will be introducing their SmartCap, a stainless steel 5-piece modular truck cap system that can be flat packed and shipped directly to a consumer's home or an accessory retailer's store, at the 2019 SEMA Show.
Designed by Mike Voss, product designer and founder of RSI, SmartCap was forged out of the rugged terrain of Africa. "I wanted to build a truck cap that was engineered to be as versatile, durable, reliable, and rugged as the truck itself," says Voss. "Fiberglass caps have inherent weaknesses. They are easily damaged, hard to repair, difficult to ship, can't hold much weight, and don't allow the truck owner much flexibility in configuring their truck bed. The SmartCap fixes all of that."
Built from automotive-grade stainless steel, the SmartCap can be assembled and installed in under an hour. Its 770lbs static load rating means truck owners can mount a rooftop tent and still have enough weight capacity to put people and gear in it. Dan Beaulaurier, Vice President of RSI North America, Inc. stated, "Because it's built from steel, you know it's built to withstand the use and abuse truck owners dole out every day to their trucks. But, if they happen to damage one of the five SmartCap panels, all you have to do is replace the one panel, and the cap is as good as new."  The SmartCap is built to seamlessly integrate with the RSI SmartSystem of Accessories. From the SmartKitchen (camp kitchen) to SmartRack (fold-down roof rack) to SmartBox (toolbox) and beyond, consumers can accessorize the SmartCap with the plug-and-play accessories to configure the truck bed exactly how they want it.
RSI's ability to flat pack and ship the SmartCap creates an opportunity for distribution to dealers and installers not currently selling truck caps. Because of this, RSI has chosen to Partner with Keystone Automotive Operations Inc. as its exclusive distributor. "We are looking to grow a dealer network across the top 200 truck markets" said Beaulaurier. "To help us accomplish that, we're partnering with Keystone as our exclusive distributor. The incredible reach of their 7 distribution centers, combined with their Parts Via Program, really made them the natural choice to launch the SmartCap in the US and Canada. We couldn't be happier."
Using the PartsVia program, Keystone will develop a network of authorized dealers that will not only be allowed to sell SmartCap, they'll also take part in a click-to-brick fulfillment and revenue sharing program—allowing the SmartCap to be sold directly to consumers online and be fulfilled by dealers and installers. The RSI SmartCap and the SmartSystem of Accessories will be available after the beginning of the year.