News
RPM Act Passes First Legislative Hurdle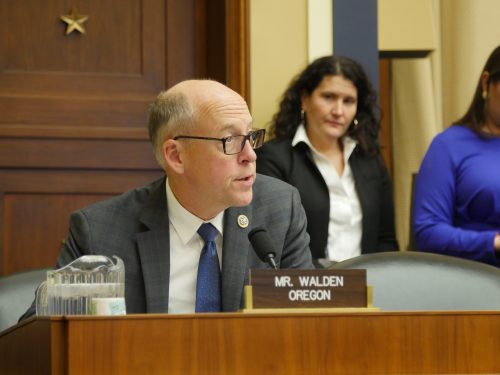 A House subcommittee voted to advance the RPM Act to the next legislative stage in Congress on Wednesday. The Subcommittee on the Environment voted 13-9 to send the bill to the Energy and Commerce Committee for further evaluation. One Democrat voted to support the measure but others said their votes could be earned by closing a perceived loophole.
"I rise in very reluctant opposition to (the RPM Act) because I'm a car girl. And while I support the goals of the bill, I feel it is drafted too broadly and could have some unintended consequences moving forward," said Rep. Debbie Dingell (D-Michigan). "I understand what the authors of the legislation are trying to accomplish. Like you, I love my afternoons at the Michigan International Speedway and I go a lot with my friends. I come from the home of the auto industry where cars are a way of life. A lot of my constituents and people I went to school with are amateur racers.
"I'm afraid the bill goes too far and could have unintended consequences on the EPA's ability to crack down on the bad actors."
BONUS READING: SEMA President Gives RPM Act Testimony
Dingell indicated she'd like to support the bill, but stressed it should not fully strip EPA's ability to enforce Clean Air Act rules banning race vehicle technology on public roads.
Rep. Raul Ruiz (D-California)-the lone Democrat to vote in support of the RPM Act-said he hopes lawmakers can build a larger bipartisan coalition for the bill.
"Democrats would like to sit down and discuss the enforcement aspect that is lacking in this bill. They want a two-pronged protection approach," said Ruiz. Prong one, he added, is to ensure modified race cars are used only at the track.
"The second step we need is clearly to address a problem we have with or without the bill, which is enforcing the Clean Air Act, and that's what this bill lacks-"and that's specifically what people on this side of the aisle would like to see addressed with the improvement of this bill."
Rep. John Shimkus (R-Illinois), who serves as the Subcommittee on the Environment chairman, agreed that a bipartisan effort would strengthen the RPM Act as it advances through Congress. However, Republicans are reluctant to negotiate extending EPA's current enforcement authority, he said.
"We want race car drivers to be able to race and we want them to be able to modify-we understand it is illegal to use it on streets," Shimkus said. "We're not really the party that wants to ramp up an EPA regulatory regime that grows."
The Recognizing the Protection of Motorsports Act of 2017 (RPM Act) currently has 140 sponsors (124 Republicans and 16 Democrats) from 36 different states. The bill, introduced by Rep. Patrick McHenry (R-North Carolina), would amend the Clean Air Act to allow the modification of a vehicle's air emission controls if the vehicle is used solely for competition. It was originally introduced in 2016 after EPA removed a proposed regulation challenging the legality of modifying street cars for racing.
EPA had sought "to clarify that the Clean Air Act does not allow any person to disable, remove, or render inoperative (i.e., tamper with) emission controls on a certified motor vehicle for purposes of competition." That language was removed from a July 2015 document proposing new rules for heavy-duty vehicles, but lawmakers still drafted the RPM Act, citing EPA's changing interpretation of the Clean Air Act.
"Across North Carolina there are 27,000 residents employed in motorsports related jobs," said Rep. Richard Hudson (R-North Carolina), an RPM Act cosponsor. "My district is home to the motorsports racing industry and Charlotte Motor Speedway and I am proud to be their voice here in Washington. This interpretation by the EPA directly conflicts with the original purpose of the Clean Air Act and Congress's repeated efforts to clarify that these standards were never intended to apply to vehicles modified for racing only."
Chris Kersting, SEMA president and CEO, on Tuesday testified in support of the Senate's version of the RPM Act in front of the Subcommittee on Clean Air and Nuclear Safety. Kersting delivered prepared remarks before taking questions from the senators.
Stay tuned to THE SHOP eNewsletter for additional updates.