News
Royal Purple to Support Lupus Foundation at Mazda Road to Indy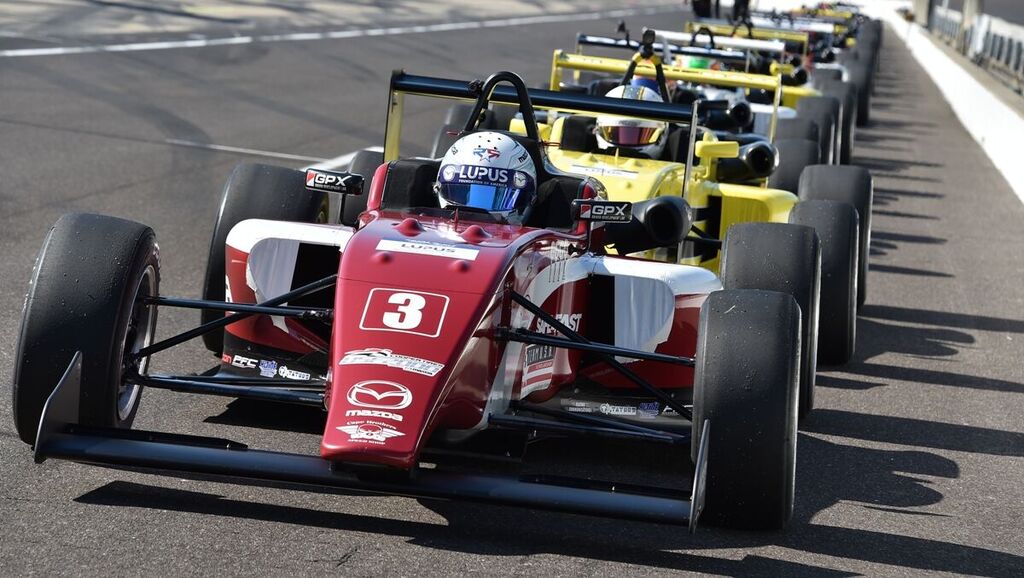 As competitors gather in support of the INDYCAR Grand Prix, Royal Purple will help to "PUMP UP THE PURPLE" during May's Lupus Awareness Month to help spread the word on this mysterious disease and raise funds for lupus research and education.
Lupus is a chronic autoimmune disease that can damage any part of the body. It is estimated that 1.5 million Americans – and at least five million people worldwide – suffer from lupus. Diagnosis is difficult and there is no cure.
All cars on the Mazda Road to Indy will display a special decal in support of the Lupus Foundation of America, and the hashtag #RaceToEndLupus will be utilized throughout the event. Fans, drivers and teams can show their support by donating via a special page on the national Lupus Foundation of America website.
"We are excited to continue our partnership with Mazda Road to Indy to help fight against lupus while supporting these talented young drivers" said Davey Hamilton, Director of Sponsorships at Royal Purple Synthetic Oil. "Not only is it important for us to raise money to fund lupus research, we also want to help raise awareness for the disease. Working with Mazda Road to Indy at Indianapolis Motor Speedway is the perfect opportunity for us to come together and bring attention to this important cause."
In addition to its race entitlement, Royal Purple Synthetic Oil will also be hosting "Slickest Pour" contests throughout the event pitting drivers and fans in a fun competition.
Many in the Mazda Road to Indy paddock have a connection to someone that has been impacted by lupus. Championship-winning Belardi Auto Racing team principals Brian Belardi, team owner, and John Brunner, team manager, have been steadfast supporters of the Lupus Foundation of America.
"It's awesome to be able to bring the awareness of lupus to racing," said Brunner. "That's how I got involved. The daughter of a friend in racing, Dave Hunt, was diagnosed and I had no idea what it was. From that moment on, I tried to educate myself. Brian (Belardi) has a connection as well and we ran a decal for the Lupus Foundation of America on our cars years ago. To see the relationship between Royal Purple and the Lupus Foundation of America last year was great and we look forward to continuing that and growing.
"We raised over $6,000 last year and I think we can double that this year. Our hope is that this brings awareness and needed funds – it's a mystery disease, but it's amazing how many friends I have who have a personal connection, with family members or friends who have been diagnosed with this disease. We're proud to do what we can to help."
"My mom has lupus, and it really does impact your life," said Pro Mazda driver Oliver Askew. "Not many people understand the disease so to use racing to raise awareness by having the Lupus Foundation of America as part of the INDYCAR GP weekend is so important. I'll be doing my part to help spread the word. Last year was the first year that Royal Purple joined with the Foundation for this weekend to promote what they do and we saw a huge involvement, so if we can build on that and keep spreading the word about this disease, it will really help us fight it."
The Royal Purple Synthetic Oil Grand Prix of Indianapolis supporting the Lupus Foundation of America will kick off with a test day for all three series – Indy Lights Presented by Cooper Tires, the Pro Mazda Championship Presented by Cooper Tires and the Cooper Tires USF2000 Championship Powered by Mazda – on May 10 followed by a pair of races for each level on May 11 and 12. Guests from Royal Purple and the Lupus Foundation of America's Indiana Chapter will participate in a variety of activities surrounding the event including waving the green and checkered flags, trophy presentations and pace car rides.
"We are delighted and proud to be involved in supporting such a great effort," said Dan Andersen, Owner and CEO of Andersen Promotions. "A staggering 1.5 million people in the United States live with this disease every day, and we appreciate the opportunity to help the Foundation raise awareness and funds to help those people."
Royal Purple Synthetic Oil also hosts the annual season-ending "Slickest Pass" Award with a $5,000 cash prize given to competitors in each of the three series who complete the most impressive pass for position during the season.
Coverage of the Royal Purple Synthetic Oil Grand Prix of Indianapolis supporting the Lupus Foundation of America's Indiana Chapter can be found on a series of platforms including Road to Indy TV, the Road to Indy TV App and dedicated broadcast channels on demand via Apple TV, Amazon Fire and Roku and, most recently, the Xbox One Official App as well as live streaming and live timing on the series' respective websites and indycar.com. Indy Lights is also featured on the Advance Auto Parts INDYCAR Radio Network broadcasts on Sirius 214, XM 209, IndyCar.com, indycarradio.com and on the INDYCAR Mobile app.
NBCSN will air the Indy Lights race on May 22 at 6:00 pm.