News
Roush Yates Engines and Mitee-Bite Products Extend Partnership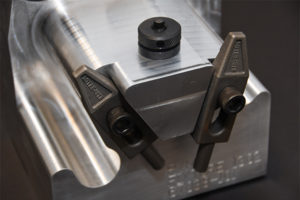 Roush Yates Engines has reached a multi-year extension with partner Mitee-Bite Products LLC.
Mitee-Bite Products, based out of New Hampshire, is a supplier and developer of compact, low-profile edge clamps. They have been providing solutions and products to Roush Yates Engines and Roush Yates Manufacturing Solutions (RYMS) since 2004 and became an official partner in 2015.
"Mitee-Bite is a great organization and their employees are their biggest asset," said Todd English, VP strategic partnerships & marketing at Roush Yates Engines. "They have been an invaluable partner to our team, creating innovative solutions and products to improve our CNC machining operations as our manufacturing facility has expanded into other industries where precision is paramount. They understand how critical it is to have parts machined within precise tolerances and within tight timelines. Now that we are machining parts for the aerospace and defense industries, as well as the motorsports industry, it is imperative that we meet our customer's requirements and ship dates. There is simply no room for error."
RYMS utilizes Mitee-Bite products to produce parts for the aerospace, defense, automotive and high-tech industries. Mitee-Bite's products also assist in the production of over 40% of Roush Yates' engine components for the NASCAR Ford FR9 EFI V8, Ford EcoBoost V6, and the Roush Yates RY45 engines.