News
Roush Yates Collaborating on Ventilator Development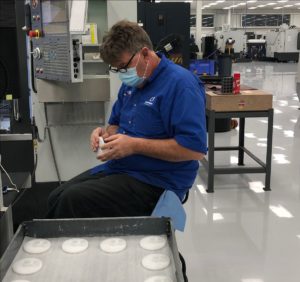 Roush Yates Manufacturing Solutions, a division of Roush Yates Engines, is currently working in collaboration with BioMedInnovations and their partners Equilibar on the development and production of specialized ventilators to help address the mounting need for life-saving health care equipment.
BioMedInnovations (BMI) was founded in 2005 to commercialize a highly controllable, low flow, low pressure fluid technology primarily targeting organ transplantation, working on how to keep an organ "alive" outside the body and to assess organ health prior to implantation in a recipient. BMI has been engaged in research and development and recently received a small-business award from the North Carolina Biotechnology Center for assistance in pivoting toward commercialization of BMI's fluid perfusion technology.
"In these last few weeks, we have looked for various ways to support our health care systems and country during the COVID-19 outbreak," said Doug Yates, president and CEO of Roush Yates Engines. "Our talented employees are looking forward to working with BioMedInnovations and Equilibar to produce precision components and aid in the assembly of these high-tech SuppleVentTM ventilators."
Roush Yates Manufacturing Solutions (RYMS) is an 88,000 square foot climate-controlled facility that is AS9100 certified as well as ITAR and NIST registered. Its CNC machining facility is equipped with premier CNC equipment that will provide the precision and versatility necessary to deliver quality components to BioMedInnovations and the medical industry.
RYMS has been working with BioMedInnovations and Equilibar for several weeks, optimizing production designs and materials to enable these components to serve as building blocks for this medical ventilator system. The company's technical team also collaborated with Equilibar to produce rapid prototypes to assist in expediting the development process.
Located near Asheville, North Carolina, Equilibar is an engineering and manufacturing company that specializes in fluid control technology for complex research and industrial applications. Its patented valves and back pressure regulators are uniquely well suited for aerospace, fuel cell testing, pharmaceutical manufacturing, catalysis research and other demanding markets.
The Roush Yates team continues to work closely with both companies to also develop and provide skilled resources to develop a high-tech assembly area for these devices.