News
Roger Conley Tapped to Lead New Harts Diesel and Machine Turbo Division
Harts Diesel and Machine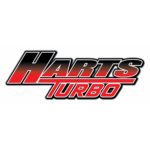 , known for its line of high-performance diesel parts, is expanding to serve the gasoline market with the formation of Harts Turbo, a division focused on street/strip applications. Roger Conley will lead the new division as Director of Business Development.
Conley is a 30-year veteran in the high-performance aftermarket holding previous general manager roles at several industry companies.
"I am excited to work with the Hart family as we are developing and manufacturing products to fit a dynamic performance segment," said Conley. "The Hart's were first introduced to the gasoline drag racing market when they worked with several high-profile racers competing on Discovery Channel's Street Outlaws television series. They have been hooked on this segment ever since, opening a pathway to this new-to-them marketplace."
Conley's role will include product development, inventory management and distribution using his experience in forming strategic partnerships within the industry to grow the new Harts Turbo division, the company said.
Harts Diesel and Machine provides the diesel market with turbochargers, injectors and fuel pumps for a variety of applications including agriculture, drag racing and tractor-pulling. The company entered the street/strip scene when drag racers discovered that the large-frame turbocharger offered by Harts allowed them to run a single 140mm unit as opposed to the previously popular twin turbocharged setup, the company said. Conley is working with Harts engineering department to develop a diverse and unique line of compressor and turbine technology to be utilized in applications ranging from near-stock street cars, to 5,000-hp Pro Modified builds.