News
Roadkill Nights Sets Attendance Record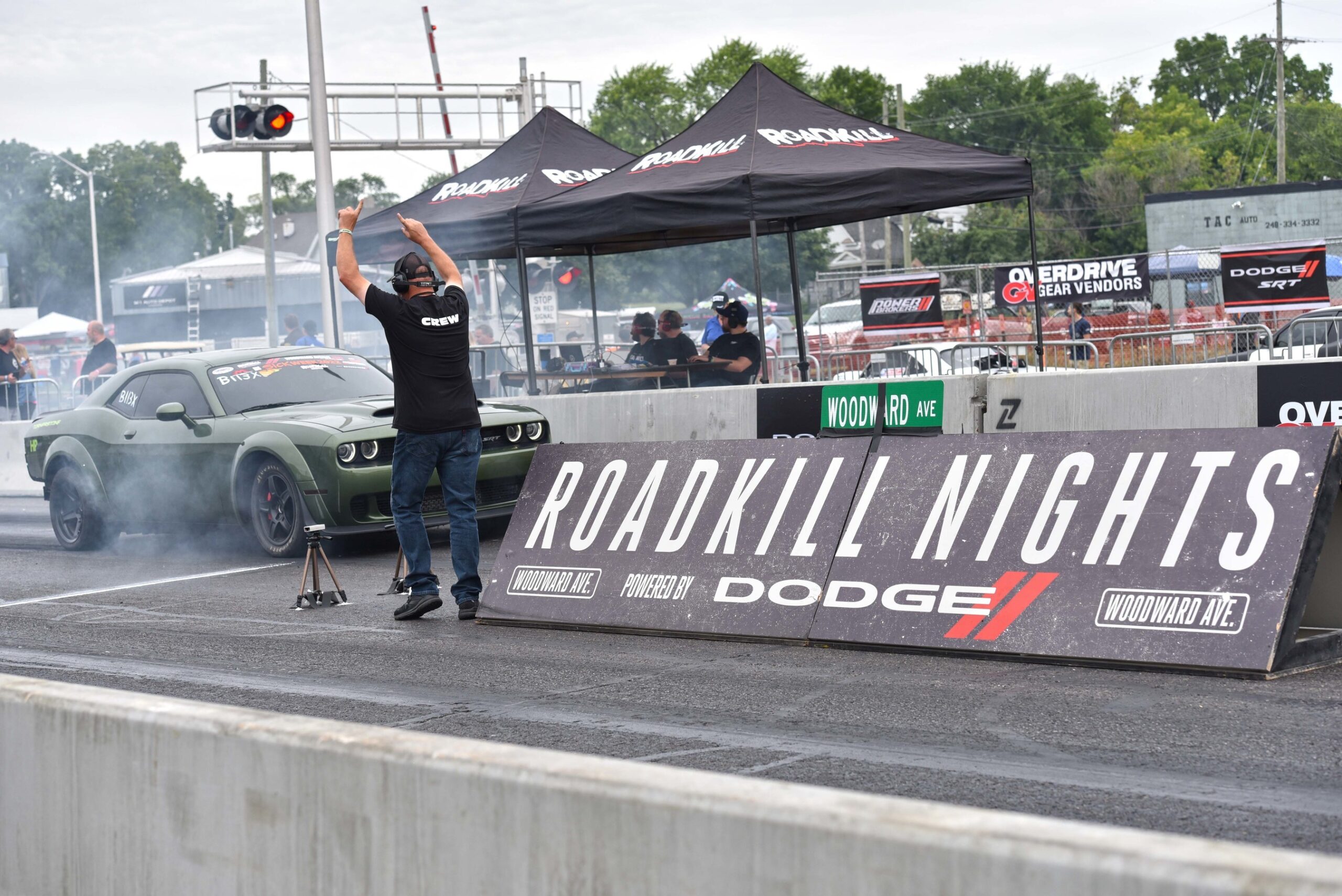 Roadkill Nights Powered by Dodge staged its return to Woodward Avenue on Aug. 13, drawing a one-day attendance record of more than 40,000 performance enthusiasts to M1 Concourse in Pontiac, Michigan, along with more than a million online views, event organizers announced.
"This is the seventh year of MotorTrend Presents Roadkill Nights Powered by Dodge and what a difference — we've gone from racing in the parking lot of an abandoned stadium to legal street drag racing on historic Woodward Avenue, with M1 Concourse serving as an amazing stage for our horsepower circus," said Tim Kuniskis, Dodge brand chief executive officer – Stellantis. "It was great seeing thousands of Dodge enthusiasts come out to the event and cheer Alex Taylor as she defended her crown and took the win in the Dodge Direction Connection Grudge Race. We're going to give performance lovers even more to cheer about as we push the pedal on Dodge Speed Week, with three separate nights of worldwide product reveals and a full brand display on Woodward Avenue during Dream Cruise weekend on August 20."
Historic Woodward Avenue's transformation into a 1/8-mile straight-line dragstrip hosted 115 street-legal drag racers, while spectators had the chance to experience thrill and drift rides in Dodge Challenger and Dodge Charger SRT Hellcats and Ram TRX trucks on the M1 Concourse.
Back for 2022, RoadKill Nights leveled up last year's Grudge Race, adding a new spin to the Dodge Direct Connection Grudge Match. Eight automotive personalities faced off for a chance to take on 2021 champion, Alex Taylor, on the drag strip. All nine competitors – Tavarish, Westen Champlin, throtl, Christina Roki, Demonology, Corruptt Builds, Collete Davis, David Patterson, and Alex Taylor— received the challenge of building and running a Direct Connection crate engine that they could modify as they pleased, however, they had the added challenge of competing with a Direct Connection six-speed manual transmission, and within a $10,000 budget.
Defending champion, drag racer, mechanic and co-host of MotorTrend's Hot Rod Garage Taylor matched her 1955 Plymouth Savoy against the 2016 Dodge Challenger of Champlin, who beat out seven other automotive builders in eliminations for the right to face Taylor in the finals. It was Taylor taking the win again, launching strong and outrunning Champlin to the finish stripe.
"There was definitely a target on my back and heavy pressure," said Taylor, who came into the Dodge Direct Connection Grudge Race knowing a mix of eight returning and rookie competitors were aiming to snatch away her crown. "For me, this is something that I take and hold near and dear to my heart, drag racing and coming out to this event specifically. Coming into it, we busted our butts, and it was the most grueling month, but to come back and actually hold the title again, it's indescribable and a weight has been lifted off my shoulders."
The Big Tire (tire size–unlimited as long as it is DOT approved front and rear) and Small Tire (tire size–non "W" 28 x 10.5 x 15 or smaller DOT Drag Radial) classes saw 115 competitors battling for bragging rights and cash prizes totaling $30,000 on the 1/8-mile Woodward Avenue drag strip. Each class winner earned $10,000, with the quickest Dodge cars in both classes taking home $5,000 each.
Race Results
Big Tire Racing Results
Joe Barry, Colorado Springs, Colorado – 1956 Chevrolet 210
Lenny Melton, Salisbury, North Carolina – 1956 Dodge Dart
Small Tire Racing Results
Mikael Borggren, Northville, Michigan – 1987 Volvo Wagon
Tony Karamitsos, Mishawaka, Indiana – 1969 Chevrolet Camaro