News
Road Armor Raises More Than $3,000 for American Valor Foundation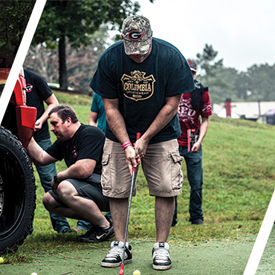 Road Armor was able to raise more than $3,000 for the American Valor Foundation last weekend at the Lifted Truck Nationals in Branson, Missouri with a fun fundraising activity.
Fundraiser participants were encouraged to take on Road Armor's Hole in One Challenge for a chance to win a pair of the company's bumpers by putting for a hole-in-one. Each contestant was given one free shot, with additional attempts costing $5 each. All proceeds are going to the American Valor Foundation, according to Road Armor.
Robbie Bryant, owner of KEG Media won the Hole in One challenge with one lucky putt. Instead of taking home the free bumpers, Bryant elected to donate his winning to the auction held at the end of the weekend festivities. With his donation, Road Armor was able to raise more than $3,000 for American Valor Foundation.
"Thank you to everyone who participated in our event," Road Armor stated in a news release. "We also wanted to give Robbie Bryant and KEG Media a very special 'thank you' for your generosity and donation."
American Valor Foundation is a 501(c)3 nonprofit corporation committed to supporting military veterans, first responders and their families through fundraising efforts and direct support. The foundation also honors U.S. veterans through memorial scholarships. Click for donation information.