News
Ridetech F-100 System Wins Goodguys Best New Suspension Product Award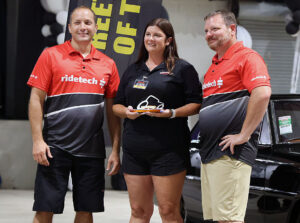 Ridetech's 1965-1979 Ford Truck Suspension System was named 2022's Best New Suspension Product at Goodguys Columbus, the company announced.
"Here at Ridetech, we love building products that make cars and trucks sit lower and ride better than ever. From the factory, the F-100's twin I-beam front suspension was cumbersome," company representatives said. "Through extensive research, development and testing, we created a bolt-in system that eliminates the I-beams and puts a four-link in the rear. It transforms these old pickups into corner-carving street machines."
During the Goodguys event in Columbus, Ridetech had its 1976 F-100 on display in its booth. New to the fleet, the 76 has made it to its second show of the year after it made its debut at the Grand National F-100 show.