News
Richard Gray Jr. Joins Spanesi as Data Collection Specialist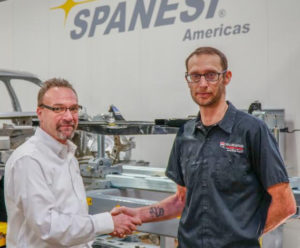 Spanesi Americas welcomes Richard Gray Jr. to its team, filling the role of Data Collection Specialist. Gray comes to Spanesi with over 14 years of service in the US Marines and Coast Guard.
"Richard stands out through the dedication to his studies at Waubonsee Community College," stated Timothy W. Morgan, COO / Managing Director of Spanesi Americas Inc. "His military experience appealed to us as we look to employ individuals with strong leadership skills within the Spanesi organization. Richard's instructors at Waubonsee Community College worked with us to make sure that he would be an excellent fit for the organization."
Gray expressed concerns about returning to college after his career in the military. "The most challenging aspect I've dealt with so far is the anxiety around being a little bit older than the average college freshman," he explained. "However, after the first day I learned that age demographics do not matter, and that anyone who applies themselves and listens to what is being taught can do well."
"Thankfully while being a student at Waubonsee, I was able to network with my collision repair instructor, Andy Macdonald, and the team at Spanesi Americas in Naperville," he continued. "If all goes well, I hope to be full-time once I graduate in August 2018."
Spanesi is a proud employer of our military veterans.