News
Rhino-Rack Awning Gets Cancer Council Approval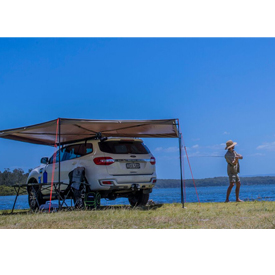 Rhino-Rack's sun-safe awning range is now endorsed by the Cancer Council Australia. The group gave the company accreditation after testing the awnings in the extreme climate and harsh Australian sun, confirming the range offers maximum UV protection, according to Rhino-Rack.
With a UPF 50-plus rating to provide protection from UV radiation, Rhino-Rack's new Batwing and revamped SunSeekers are both Cancer Council endorsed products.
"We're excited to be partnering with Cancer Council, a leading charity playing a crucial role in helping to reduce the prevalence of skin cancer in Australia," said Matt Hankin, head of marketing for Rhino-Rack. "Having Cancer Council's endorsement on our Batwing and Sunseekers gives our consumers confidence when purchasing our awnings, reassuring them they'll be sun safe when combined with other sun protection measures."
Professor Sanchia Aranda, Cancer Council CEO, said that Cancer Council is happy to have Rhino-Rack as a product licensee partner.
"Both Rhino-Rack and Cancer Council share a commitment to education and innovation, especially when it comes to protecting people against the potential damage that can be caused by exposure to UV radiation," Aranda said. "Our partnership with Rhino-Rack not only brings innovation in sun protection, but the income generated will make a valuable contribution to our vision of a cancer-free future."
Every purchase of Rhino-Rack's Batwing and SunSeekers, according to the company, will support Cancer Council's work in cancer research, education and support services, helping them take a step closer to finding new and better ways to prevent, diagnose and treat cancer.