News
RETRAC Logo Undergoes Transformation
RETRAC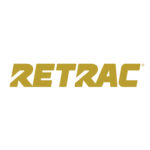 has revealed a new logo. The company manufacturers aftermarket and OEM mirrors and front-end protection for heavy-duty and medium-duty trucks.
The new logo coincides with other significant brand updates for RETRAC, including a website, collateral, and display signage.
The modern logo was designed by the in-house creative team at CURT Group. The design team worked together with various departments to ensure the logo represented the brand's personality. Multiple revisions were created using feedback from sales, marketing, product development and more before the team landed on the new logo.
Beyond changing the shape of the logo, the most significant change is the new gold color. CURT Group decided on gold because it represents winning, quality and stands out in the industry, according to the company.
The new logo will be seen at upcoming events as well as all other print and digital assets in the next several months.