News
Renegade III Project Jeep Lands on Three 'Best of SEMA' Lists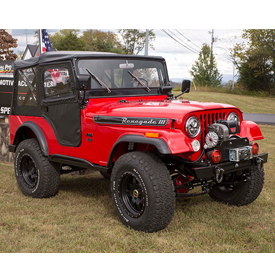 Renegade III, a 1974 Jeep CJ-5 reconstructed and enhanced for the 2017 SEMA Show by Greg Griffith, Mancave Designs, and The AAM Group, was named to three post-show top-builds lists.
The Four Wheeler Network recognized the Jeep on its Top Ten Vintage Jeeps and Top Ten Jeeps lists, while JPFreek Adventure Magazine named it on its Top Ten Jeeps list.
Considering the sheer number of vehicles showcased at SEMA every year, the Renegade III being named to not one but three "best of" lists was a huge honor for its architect, AAM Program Sales Manager Greg Griffith, according to AAM Group.
"We went to SEMA understanding that Renegade III would be a very small fish in a very large pond," Griffith said. "With all the great vehicles and builders on display, we were understandably thrilled at how well our Jeep was received by the community. The fantastic social media response also let our team know that we had built a special CJ5. I am proud of Renegade III and all the folks who helped with the build, and grateful for the outstanding support of our participating manufacturers."
The Four Wheeler Network will be publishing more information about Renegade III and the other selected builds in the near future.