News
Reese Debuts New Fifth Wheel Hitch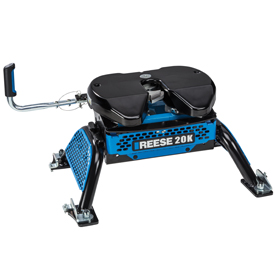 Reese has introduced the M5 fifth wheel hitch as a "convenient, reliable, and durable towing solution," according to the company.
With the M5, there is no longer a need to get out of the truck to open the hitch. The Ready-To-Receive Talon jaw system allows the user to back in, secure, and go.
The M5 delivers several other benefits, including a tow/no tow indicator, shock-dampening system, and an ergonomic, easy-to-reach handle, according to Reese. Tighter tolerances grant users confidence in towing by providing less noise, less chucking, and an overall solid connection. Additionally, the M5's fully articulating head, which features 20 percent more landing area, aids towers in coupling on uneven terrain, while the built-in v-notch helps target the trailer's king pin into its proper place.
"Towing today is much more advanced than it was years ago, which is why Reese has included so many unique features into the design of the M5," said Tom Stalder, senior product manager. "Our engineers understand the marketplace and the needs of our customers.  With its innovative technology, durable construction, and sleek design, the M5 is expected to be a must-have for the modern-day tower."
The M5 is made to fit GM trucks with a factory tow package, is finished with a durable powder coat and corrosion resistant Zinc on the handles, latches, and jaw, and is tested to SAE J2638 standards.