News
Recaro Automotive Seating and Skip Barber Racing School Announce Partnership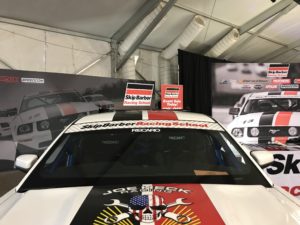 Recaro Automotive Seating, Adient's premium car seating brand, has entered a partnership with the Skip Barber Racing School that goes through 2023. Recaro will provide the school with a wide variety of seating options to further enhance the school's driving experience, according to the company.
"We are proud to provide our students at Skip Barber Racing School with the highest quality racing and driving experience," said Anthony DeMonte, CEO of Skip Barber Racing School. "By incorporating Recaro seats in our race prepared vehicle lineup, we strive to further develop the skillset of current and future racers, safely and successfully."
Recaro performance seats help drivers sense the limits of a vehicle on the track or in critical situations on public roads, according to the company. Recaro Pole Position, Pro Racer, and Profi performance seats will be installed in the fleet of racing Ford Mustang GTs used in Skip Barber Racing School's training sessions.
"Skip Barber Racing School and Recaro share a passion for high performance driving. For decades, both renowned brands have been perfecting their abilities to test, train and redefine the limits. As leading brands in the field of high-performance driving, our aim is to create intense driving experiences," said Ulrich J. Severin, head of Recaro Automotive Seating. "We believe that the psychology of performance driving starts with the correct, relaxed seating posture. Thus, we are thrilled about our cooperation and to bring our Recaro seats to SBRS."
Both Recaro and Skip Barber Racing School work with a number of auto racing teams and drivers. Thirty-percent of all drivers on the starting grid for the Indianapolis 500 for the last 25 years are Skip Barber graduates, including Alexander Rossi, Ryan-Hunter Ray, Spencer Pigot, Colton Herta and Marco Andretti.