News
RC Fuel Injection Now Offering GDI Blueprinting Services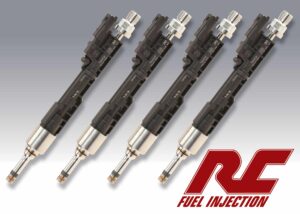 RC Fuel Injection is now offering gasoline direct injection (GDI) blueprinting/refurbishing services, the company announced.
The new service joins the RC Fuel Injection roster of services, which has been blueprinting and balancing both low impedance "peak and hold" and high impedance "saturation" injectors for 30 years, the company said.
According to RC Fuel Injection, like port injectors, direct injectors can —and do— clog. And in addition to fuel-related clogging, direct injector tips can be contaminated by carbon from combustion events.
RC begins by flowing the injectors at up to 300 bar fuel pressure (depending on system requirements) and documenting the results, the company said. Next, they are ultrasonically cleaned in a special mixture —pulsing the injectors for a more thorough purification. Then, all components subject to wear (O-rings, seals, filters, etc.) are replaced. The refurbished injector is then flowed again to ascertain the volume and evaluate the spray pattern, the company said. Before and after results are provided to the customer.