News
Raptor Series Publishes Jeffrey Earnhardt Q&A Ahead of Booth Visit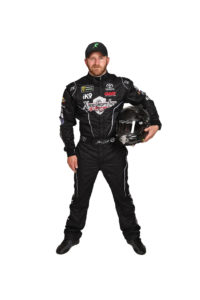 Truck and off-road brand Raptor Series will host Jeffrey Earnhardt in its SEMA booth (No. 32193) from 11 a.m. to noon and 2-3 p.m. on Tuesday, Oct. 30.
Beyond being the grandson of racing legend Dale Earnhardt, and nephew to Dale Earnhardt, Jr., Jeffrey Earnhardt has cut his own path in the racing world. In July he registered his best career Cup Series finish, coming in 11th at the Coke Zero Sugar 400 in the Monster Energy NASCAR Cup Series.
Raptor Series conducted the following Q&A interview with Earnhardt to introduce him as its SEMA booth visitor:
Raptor Series (RS): It's no secret that the name Earnhardt is synonymous with racing, but for you personally, was there a certain moment that made you want to pursue racing not only as a hobby, but as your future career?
Jeffrey Earnhardt: I never had an interest in racing until I was 12 years old. I started at the local dirt track, Wythe Raceway, when I started in a series for 12-18 year olds. I then begged my dad for two years to finally let me race. He said you go find sponsors and a car and you can do it, and we'll that's just what I did.
RS: What are a few of your racing goals that you would like to achieve?
Earnhardt: I want to one day be a champion in this sport I have such a passion for, and be a good role model for our future competitors that want to be in NASCAR some day.
RS: Is there any certain race that you would like to win that would be particularly special to you?
Earnhardt: Obviously I'd say the Daytona 500 it's our biggest race of the year and it would mean a lot to win.
RS: After the 2018 racing season concludes, what's next for Jeffrey Earnhardt?
Earnhardt: I wish I knew the answer to that at the moment. I hope to be competing full time in the Monster Energy Cup level in 2019.
RS: If we were to open the doors to your personal garage, what kind of vehicles would we find?
Earnhardt: A Ford F-250 for now, until I can afford to switch over to a new Toyota Tundra.
RS: When you get a new vehicle, what are the first accessories or modifications that you like to add and are they usually more for looks, performance, or both?
Earnhardt: Normally window tint, wheels and tires (accessories – step boards, bed rails, nerf bars, etc.), and then tuner. I like tough looking trucks that can pull anything I need with ease.
RS: Are you a DIY guy when it comes to installing accessories or do you prefer to drop your vehicles off at a local shop? If so, do you have a local shop that you work with and want to give a shout out to?
Earnhardt: I like to do stuff myself, but I don't have a big nice shop to do all the fun stuff in, so normally I use my buddy Jason Mussetter with Xtreme Truck and Trailer in Mooresville, North Carolina. He's always treated me right and helped me keep my rides looking sharp.
RS: The 2018 SEMA Show is right around the corner. How many times have you attended the SEMA Show in Las Vegas?
Earnhardt: I've attended SEMA four or five times now. It's always such a great show with more than enough to enjoy and see, and always lots of business to be done there as well.
RS: Is there anything in particular that you look forward to the most when visiting the SEMA Show?
Earnhardt: Raptor Series of course! All the tricked out truck builds are my favorite. I'm an outdoorsy truck kinda guy so that's what attracts me the most at SEMA.