News
Rancho's Wrangler Suspension System Passes the Test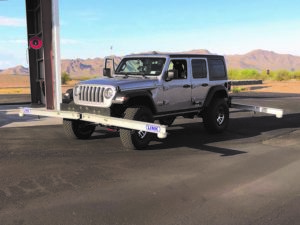 Engineered for versatile on- and off-road performance, the latest Rancho suspension system for the 2018 Jeep Wrangler JL recently met the requirements of the U.S. Federal Motor Vehicle Safety Standard No. 126 – Electronic Stability Control Systems (FMVSS-126) test.
"Rancho continues to certify new suspension platforms to the FMVSS-126 protocol and the latest Jeep JL platform was no exception," said Chris Gauss, director, performance products, Tenneco.
The Rancho team tested a 2018 Jeep Wrangler JL that utilized a Rancho 4.5-inch crawler short arm system (Part No. RS66125B), RS5000X shock absorbers, BFGoodrich All-Terrain T/AKO2 37/12.50/17 tires and Vision Nemesis 17-inch wheels, according to a press release.
The Jeep JL testing took place at Arizona Proving Grounds in Wittman, Arizona, and was completed by Link Engineering Company of Dearborn.
The Rancho product line includes multiple suspension systems for 2018 Jeep Wrangler JL models. Each Rancho JL suspension kit features a pair of front and rear corner-specific, heavy-duty progressive rate coil springs that are tuned to enhance on-road comfort and off-road performance.
Rancho has designed both RS5000X and RS9000XL shock absorbers to include the brand's innovative and exclusive new Dynamic Rebound Spring (DRS) technology, the release stated. Exclusive to the Wrangler JL system, Rancho DRS technology includes an internal system design that has a precisely tuned metal spring and fortified interior construction to improve control, reduce vehicle body roll and prevent rod overextension.