News
RacingJunk.com Gives Details on Upcoming Virtual Trade Show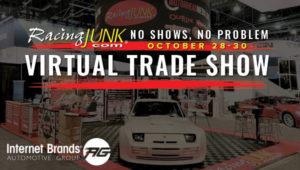 "Looking Forward: The Future of the Auto Industry in the Race, Performance and Enthusiast Space" will be the official theme of the "No Shows, No Problem Virtual Trade Show," organized by RacingJunk.com, the website announced.
The show—a response to the cancellation of the big end of the year auto industry shows—is an opportunity for businesses to share new or popular products with consumers and other businesses, gain insight into current marketing practices and help celebrate the enthusiast automotive audience while providing auto-themed editorials, roundtables and vehicle galleries with the consumer side of the business, the online classified said.
According to a press release, the trade show will highlight how the auto industry is coping with new issues brought on by responses to the global pandemic and changing economies, and examine how the race, performance and enthusiast spaces will look in the future.
The show's schedule includes two roundtable discussions: "Looking Forward: The Future of the Auto Industry in the Race, Performance and Enthusiast Space" and "Women in Motorsports: A Conversation About the Future" will both focus on the future of the industry, while the other panels and Q&As will more specifically address industry-specific questions.
These include a panel on Leveraging Giveaways to Boost Business, The Future (and the Present) of the Car Show, Utilizing Traditional Enthusiast Spaces in the New Economy and The Future of Racing: Dirt, Drag and Fantasy. Special sessions on how to best market a vehicle, product or service in this current climate will also be interspersed amidst the higher concept discussions.
The virtual trade show will also feature new product and company showcases, a virtual car show, a builder's showcase, featured topics in the Auto Communities forums and editorials on the future of the race and enthusiast spaces from a variety of perspectives.
"We have a number of exciting companies participating in our programming," says Jim Sweener, director of sales and business development for the Internet Brands Auto Classifieds, of which RacingJunk.com is the flagship site. "Baer Brakes, Osage Casino Tulsa Raceway Park, Motul, Car Chix, Torq-Masters Industries, and that's just on the business-to-business side. This show really embraces the ways in which we are changing as an industry, and how we have been able to embrace that change. It's a celebration of the future."
"No Shows, No Problem" will be held Oct. 28 – 30, across RacingJunk.com and the Internet Brands Auto Communities forums and news sites.