News
Race Sport Lighting to Host Training Session at KnowledgeFest Las Vegas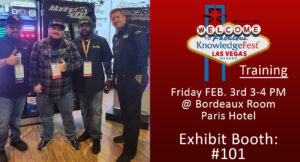 Race Sport Lighting will be exhibiting (Booth 101) and hosting a training session for dealers at the upcoming KnowledgeFest Las Vegas, the company announced.
Staff will be available in the booth all weekend to answer any questions and will feature a large custom 5-Axis display of testable Race Sport lights, including the Terminator LED Kits, DRIVE Series V2 LED kits and GEN4 LED system, the company said.
Race Sport Lighting will also host a training session that will focus on "The Lighting Category Opportunity for the Owner, The Sales Counterman and the Technician," the company said. Scheduled for Feb. 3 from 3 to 4 p.m., the session will offer information on the lighting category and ways to increase revenue.
"We can't wait to meet with our dealers from all over the country and reconnect face to face with many. 2022 was a strange year full of global economic issues for many of our dealers, but I know dealers are ready to kick off 2023 in the right direction," said Steve Jergensen, president of Race Sport Lighting. "We have added more patented and unique LED lighting solutions to our line up and added amazing value-added tools for our dealers to us. It's going to be exciting to show them off in Vegas. I am particularly excited about the training on Friday that is brand new and will accelerate any dealers lighting category revenues."