News
R-Joint Granted U.S. Patent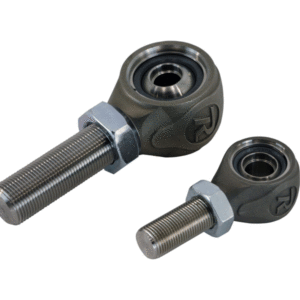 Some time ago, inventor Bret Voelkel set out to design a rod end with high articulation, extended service life and quiet operation. The result is RideTech's new R-Joint, which has just been granted a United States Patent.
Key design features of the R-Joint include a self-lubricating bearing cage and a spring-loaded locking mechanism that maintains constant tension. Premature wear and noise are eliminated. The unique design allows for high articulation in three planes with 360-degree axial rotation and 30 degrees of total lateral rotation, according to RideTech.
R-Joint's patented design consists of a 17-4 stainless steel housing. The polished stainless steel ball bearing is fitted within a self-lubricating cage made of a proprietary composite material called RTX10. The cage and bearing are retained by a wave spring and locking mechanism that maintains tension for long service life, according to RideTech.
R-Joint is presently available in 3/4″-16 x 5/8″ size. R-Joint XL sizes are 1.25″-12 and 1″-14. Weld-on versions are available as well.
"R-Joint rod ends," according to a RideTech press release, "are the perfect solution for high-performance street cars and race cars."