News
Quake LED Available Next-Day to Shops Nationwide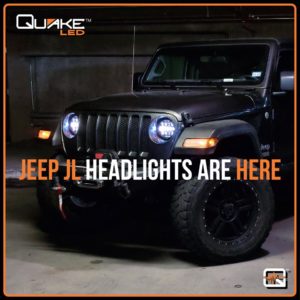 LED lighting products from Colorado-based Quake LED are now available through Meyer Distributing.
Jobber shops across the country now have next-day access to the full line of Quake LED products, including the recently released, patent-pending QuadLOCK controller, according to a press release.
"At Quake LED, we focus on developing cutting-edge technology that is outside of what you will see from other manufacturers," says Kelly Flynn, Quake LED president. "We are crazy-excited about the monumental success of our new QuadLOCK system. Pair that success with our First to Market Jeep Wrangler JL aftermarket LED headlight and it makes perfect sense that we would partner with Meyer Distributing."
Meyer Distributing provides nationwide automotive specialty product marketing and distribution, serving thousands of customers via Meyer Logistics direct-ship, the release noted.
"With their innovative products and our amazing market penetration we envision this being a very successful line for us," said Nick Gramelspacher, vice president of sales and marketing for Meyer Distributing.