News
Quadratec Launches Jeep Build Series, Giveaway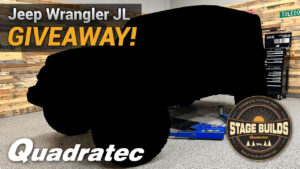 Quadratec is launching a new build series and giveaway contest for a 2018 Jeep Wrangler JL model, the company announced.
The build series will follow along as Quadratec outfits the JL Wrangler in three different stages, highlighting a variety of aftermarket upgrades, the company said. The Quadratec Wrangler Stages Giveaway will be open through March 29, 2024.
Additionally, Quadratec has partnered with numerous brands, including AWE, Baja Designs, Bestop, Black Rhino, Fabtech, Lange Engineering, Nitto, Oracle Lighting, Overland Outfitters, Rock Slide Engineering, Rugged Ridge, Superchips, Tuffy Security Products and Warn to add a wide variety of aftermarket upgrades that will be featured in three different vehicle stage designs over the next several months.
"This is an exciting and new type of Jeep giveaway compared to what we have traditionally done," said Quadratec Content Director and Stages Project Manager Eric Ammerman. "Not only will we be giving away our highly modded Wrangler at the end of this process, but we're going to build it up in different stages so every enthusiast out there will be able to see modification ideas that can work for them."
Stage One will highlight customization options for Wrangler JL owners without having to completely overhaul the vehicle, the company said. This stage has products designed to provide more ground clearance, add front, rear and side protection, as well as lighting, wheel and tire, and interior improvements.
Stage Two features an even more robust appearance and numerous performance enhancements such as suspension, protective, tuning and recovery upgrades all designed to improve off-road performance without affecting daily driving.
Stage Three is geared towards providing Wrangler owners with a superior off-road look while adding trail performance behind heavily vetted products like beadlock wheels, aggressive tires, suspension lift, snorkel, recovery and lighting options, the company said.
Throughout the giveaway period, and leading up to the official giveaway announcement, the stages upgrade and build process will be documented on Quadratec's YouTube channel and profiled on its Torque Channel, Quadratec said Additionally, each vehicle build will have a unique section on the company's website — complete with every product offered for that stage.
The Stage Three 2018 Wrangler JL completed build will be given away to a random winner after the contest closes on March 29, 2024. Entries are limited to once per week and can be submitted on the Quadratec Giveaway Jeep web page or automatically registered through a purchase. No purchase is required to enter.