News
QA1 Acquires Gerst Tubular Suspension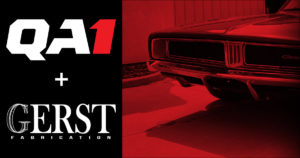 QA1 is expanding its classic Mopar suspension line after its recent acquisition of Gerst Tubular Suspension, a manufacturer of coil-over systems for classic Dodge, Plymouth and Chrysler platforms, the company announced.
The acquisition pairs Gerst's Mopar products with the manufacturing capability and distribution of QA1, the company said. QA1's facility in Lakeville, Minnesota, enables expanded manufacturing of these products.
"I hand-picked QA1 when I made the decision to partner with another company," says Carl Gerst, founder of Gerst Tubular Suspension. "QA1's quality standards and manufacturing capability made them the ideal partner. Their team is highly passionate and talented – it's going to be a lot of fun working together on development projects in the years ahead."
The Gerst products will complement QA1's current suspension solutions, which are designed to work with factory geometry and torsion bars. With this addition, QA1 is able to expand its line of full-vehicle suspension kits for Mopars, with new part numbers being released in the coming months. These new products will be manufactured in Lakeville, Minnesota, alongside other QA1 products.
"Carl has built an exceptional brand and product offering over the years and we couldn't be more thrilled to add these products to our lineup," says Melissa Scoles, QA1 president and CEO. "Our team has really enjoyed working with Carl and we are excited to continue that relationship into the future."
Gerst will join QA1 at shows and events to continue promoting the virtues of the Gerst designs. Additionally, he will collaborate with the QA1 product development team on future designs, the company said.
Effective immediately, all Gerst customer service and manufacturing operations will be transferred to QA1. Customers with products on order through Gerst will be contacted soon with details on their orders. In the coming weeks, as manufacturing gets underway, additional product release information will be provided.