News
Q&A with Chattanooga Motorcar Festival Founder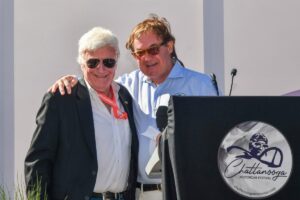 Ahead of the 2022 Chattanooga Motorcar Festival, scheduled for Oct. 14-16, event organizers released an interview with Byron DeFoor, a Chattanooga developer and racer who founded the festival.
Individual events scheduled for the multi-day festival include a rally through the Tennessee countryside, a Concours d'Elegance, Mecum Auctions, and historic and vintage auto races at the Pace Grand Prix at the Bend, as well as a street party, rides in cars from the Great Race and an Oktoberfest.
Proceeds from the Chattanooga Motorcar Festival will benefit The Neuroscience Center at CHI Memorial in Chattanooga and support neuroscience research through Fifty Plus Foundation.
Below is the full interview, provided by the Chattanooga Motorcar Festival:
Q: Why did you decide to create the Chattanooga Motorcar Festival?
A: Though I have traveled many places, Chattanooga has always been home. It is proud and philanthropic. Leaving this community a better place than I found it has always been a driving force in my life. We must remember that it is our own spirit that at the end will prevail. Hope and faith count, but without charity there can be nothing good.
Q: What charity will benefit from the Festival?
A: The proceeds this year from the Festival will again benefit The Neuroscience Center at CHI Memorial as well as the NeuroScience Innovation Foundation. Helping to heal and ease brain injury and disease is something we have been passionate about for years and the reason why ACDC lead singer, Brian Johnson, and I started the Fifty Plus Foundation.
Q: Was your racing and car collecting passion a factor in making this decision?
A: Racing has given me the opportunity to participate in and to watch some spectacular car events. The Festival is an event that has lived in my mind for years, and I'm proud that it's in its third year and growing. Building the Chattanooga Motorcar Festival the last few years has been rewarding and challenging, but the rewards definitely outweigh the challenges.
Q: Where is home base in Chattanooga for the Festival?
A: The West Village, located in the heart of downtown Chattanooga, is home to the Festival. With beautiful hotels, fabulous restaurants, and pedestrian-friendly streets, it has proven to provide the perfect venue for the Festival.
Q: What are the world-class events fans can expect to see this year?
A: Last year we added the inaugural Pace Grand Prix at The Bend to the line-up. We named it after our dear friend and my 2019 Festival Chief Operating Officer, Jim Pace, who passed away from Covid in 2019. We miss Jim every day! It's located at Chattanooga's riverfront property known as The Bend. This track has been widened this year and reconditioned for a smoother driving experience, and a new three-quarter-mile infield loop has been added, taking the total count to 2.75 miles. It's going to be awesome!
In addition, the Festival will include a breath-taking rally through the mountains of Tennessee and Georgia organized by Canossa Events, a Concours d'Elegance with vintage cars from all over the world lining the streets of the West Village, and, back by popular demand, the world-famous Mecum Auctions.
Q: What would you like to add to your comments?
A: We are very proud of all our partners in this adventure, collectively known as the Chattanooga Motorcar Festival Knowledge Community (Corky Coker, Ken Gross, Dick York, Judy Stropus, Tom Shelton, David Geanacopoulos, Kevin Caulfield and Clay Timon). We appreciate their hard work in building this great event.
And, to the fans and visitors, thank you again for being a part of the 2022 Chattanooga Motorcar Festival. We are glad you'll be here and hope you and your family enjoy our beautiful city and fun-filled Festival weekend.