News
PTP Turbo Blankets Has Motovicity Covered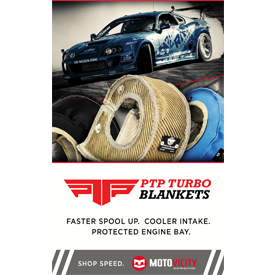 Motovicity Distribution has added PTP Turbo Blankets to its lineup.
PTP Turbo Blankets is one of the leading suppliers of turbo blankets and exhaust wraps in the country, appealing to both street and race performance enthusiasts," said Manny Iwabuchi, PTP's director of research and product development. "We at PTP strive to serve the worldwide marketplace with performance enhancement products for automotive applications with high-quality turbo blankets and exhaust wraps that reflect our many years of experience in research and development and our strong drive for excellence."
PTP Turbo Blankets started as the first import performance shop in Austin over 20 years ago, according to the company. Their market position led them to design and manufacture premium, hand-crafted turbo blankets, and heat wraps to meet customers' needs at an affordable price.
PTP Turbo Blankets utilizes analytics and advancement to explore the best options in materials and engineered designs to create heat insulation blankets and sheaths, according to the company.
PTP's motto is Faster Spool Up. Cooler Intake. Protected Engine Bay.
For more information, contact Motovicity at 888.SPEED.16 or visit Motovicity.com.