News
Proving Grounds Racing Takes to the Trails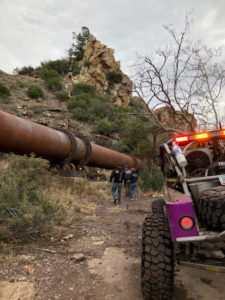 While they haven't been able to get on track, the teams at Daystar Products and Proving Grounds Racing took the opportunity to explore one of many scenic trails Arizona has to offer.
For one recent adventure, John Grounds, PGR 4570 driver and engineering manager at Daystar, took a trip out to Sunflower Mine OHV Trail in the Mazatzal Mountains. Not wanting to miss out on the action, a few friends met up at the trailhead before setting off on the 3-hour ride. Together, they were able to climb some rocks, enjoy a picnic, kick up some dust and have an action-packed day.
The Sunflower Mine trail is a challenging 20-mile loop. Mostly used for off-road driving, the trail offers scenic views of mountains, creeks and possible wildlife. About halfway through, one will find an abandoned mercury mine, known as the National Mine. Though much of the original infrastructure was burned down in a fire in 2012, many of the gears, piping, and shafts are still in place, making the difficult trail worth the trek. Much of the trail is exceedingly narrow, making it tough to navigate around drivers coming from the opposite direction. It is common to come across vehicles that have gotten into some sticky situations.
Directions to Sunflower Mine Trail
From Mesa Arizona, take Highway 87 north to just past mile marker 222. Turn left onto Sycamore Creek Road. Follow this paved road 1.2 miles to the bottom of the hill, then turn right at the cattle guard onto Forest Service Road 25. Go through the gate and find a spot to park on the side of the road. Start your ride here.