News
ProTorque Partners with Boninfante Friction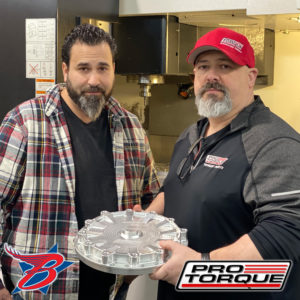 ProTorque has announced a new partnership between the company's Joe Rivera and friction clutch manufacturer Boninfante Friction. The company hopes to up the ante on ProTorque converters, with access to Boninfante's state of the art, world-class machining technology allowing it to develop more innovative products, produce them more quickly and help racers win more races and set bigger records.
Rivera and Rob Boninfante, Boninfante Friction's namesake, have similar backgrounds from growing up in the same industry, and both men have honed their skills since adolescence, so that each brings a lifetime of experience and proven performance as experts of their respective fields and crafts. The decision to team up was an easy one to make for ProTorque's Rivera, as he knew it was in the best interest of the company and its racers to join forces with Boninfante to provide increased performance and technology.
"Boninfante handles more horsepower than anyone else, and it is a true honor to be working with a company of this caliber," said Rivera. "The team at Boninfante is absolutely brilliant an we're excited to start rolling. Get ready for an all new level of performance with ProTorque and expect to see many new products from this collaboration that will be born from Top Fuel technology. This is going to be epic!"
Boninfante Friction has been involved in drag racing since 1988, and has since grown to support every Top Fuel and Funny Car team in NHRA competition and won every NHRA pro class championship since '98. According to the company, Boninfante's recent move to making parts for automatic transmission racecars has been a natural progression over the last several years, and the new union with ProTorque's Rivera adds even more clout, with Rivera providing the finest driveline parts in the world.
The collaboration between ProTorque's Rivera and Boninfante is nothing new, as the two men have been working in support of one another for over 10 years. According to ProTorque, this new era for "the brain trust of power transfer" will become the epicenter of fluid dynamics development to carry automatic performance racing through the future with dominance.