News
Proposed Arizona Racetrack Awaiting Final Approval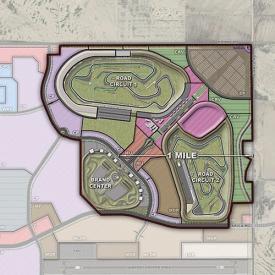 Builders has announced the design of its primary international road race circuit has been finalized and site plans submitted to Pinal County to initiate permitting. All land use entitlements are secured and construction of the new track, Arizona International Raceway at Attesa, will begin immediately upon county approvals.
Attesa is Danrick Builder's master-planned motorsports, entertainment and advanced technology research community located 43 miles from Phoenix Sky Harbor International Airport. The 2355-acre property is within the metro Phoenix area (population 4.8 million), just south of Casa Grande, Arizona. Attesa is an anchor of Pinal County's burgeoning advanced technology corridor in central Arizona.
"The Phase 1 pro track will be 16-turns and 2.65 miles long," said Dan Erickson, Danrick Builder's managing partner, "built to Fédération Internationale de l'Automobile (FIA) and Fédération Internationale de Motocyclisme (FIM) standards with multiple configurations and significant elevation changes. Phase 2 will expand the pro circuit to 4.25 miles and add a high-performance driving school and skid pad, closed-course off-road track plus testing facilities for manufacturers, racing teams and aftermarket suppliers."
"Arizona International Raceway at Attesa will also have a membership club including clubhouse, private garages, residential opportunities, an RV park and more." he added. "When finished, AIR will have three different circuits, all able to be used at the same time, each able to be raced in both directions. This is important as there are half dozen amateur Arizona sports car and motorcycle racing organizations that need a permanent home track."
England's Apex Circuit Design was retained to design the facilities.
The track is being carved from flat farmland and a massive amount of dirt will be moved to create the desired elevation changes to maximize the fan and driver experience. The state's largest earthwork contractors estimate it will take six months just for site work and grading, as more than a million cubic yards of dirt will have to be excavated.
Danrick Builders applied for a Comprehensive Plan Amendment (CPA) in spring 2016 and the entitlement process was completed in January 2019, but ground-breaking has been delayed by a hold on certificates for an assured water supply needed to subdivide in Pinal County.
"The County has shared our vision since 2015 when we first conceived Attesa," added Johnson, "and they've gone above and beyond the call of duty. They're helping us, and every other developer, farmer or community stakeholder, in getting the water issue solved. Our land grew corn, cotton and cattle for more than 50 years. We're still farming the land today, while we wait. We have wells and water rights for agriculture but those don't transfer directly to residential or industrial land use. It's less a water problem than a paperwork and regulatory agency problem. But significant regional efforts are underway and we are confident resolution will be found."
Attesa will feature single family homes, townhomes and apartments, industrial/commerce space and a concert/public event venue in addition to the race tracks. Ultimate plans include a luxury resort hotel and convention center, a retail and entertainment district as well as an airpark and private airport with FBO services, domestic utilities and public safety facilities.