News
PRI to Livestream Grand Opening Breakfast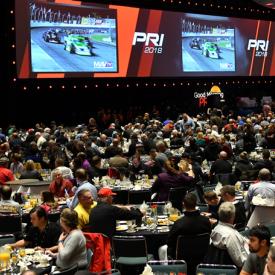 Set to kick off its annual industry-only trade show in Indianapolis, Indiana, Performance Racing Industry (PRI) has announced that it will live broadcast the Grand Opening Breakfast via the company's Facebook feed. Starting at 7:45 a.m. EST on Thursday, Dec. 12, the broadcast can be viewed on PRI's Facebook page.
The opening breakfast will feature a Q&A panel with Don Schumacher and the DSR team. Hosted by SPEED SPORT's Ralph Sheheen, the event expects an audience of 3,000 attendees in the Sagamore Ballroom of the Indiana Convention Center. PRI General Manager Bill Miller will open the breakfast with remarks on the newly released PRI Mission Statement.
Racing industry media and businesses can live stream the opening breakfast directly from your Facebook pages as well, through crossposting.
Contact PRI Marketing Manager Jon Shakill at jons@performanceracing.com for simple instructions on how you can stream the breakfast live directly from your business Facebook page.