News
Premier Performance Now Stocking Venomrex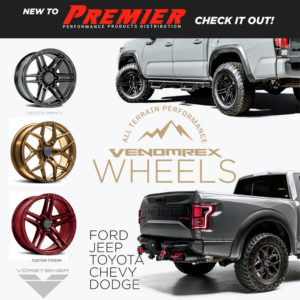 Premier Performance Products Distribution is now stocking and shipping Venomrex, a manufacturer of performance flow-forged wheels for truck and jeep applications.
Venomrex provides high-quality wheels for all-terrain performance, specifically for truck and off-road applications. They produce wheels for the Ford Raptor, F-150, Jeep, and Toyota.
Venomrex wheels are from flow forged technology, meaning they are lighter in weight compared to a conventional cast construction and substantially stronger, according to the company.
"We are happy to offer more options for wheels at Premier," said Derek Tingey, category manager at Premier Performance. "Premier has become known throughout the aftermarket for performance parts but we carry a variety of accessory products, including wheels. We are excited to add these stylish, innovative wheels from Venomrex to our ever-growing line card."
Premier Performance is now stocking Venomrex and ready to ship orders immediately.