News
Premier Performance Now Stocking Steer Smarts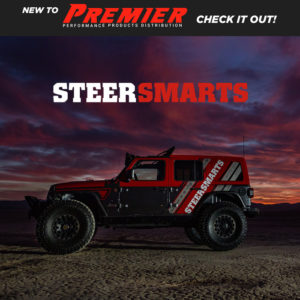 Premier Performance Products Distribution is now stocking and shipping Steer Smarts, a manufacturer of steering and suspension enhancement parts.
Steer Smarts is powered by a team of dedicated enthusiasts and engineers that makes all the company's products in the United States. Products include steering kits, stabilizers, tie rods, track bars, attenuators, and draglinks for Jeep applications. Some of the company's latest products include the no-drill, top-mounted draglink and the Griffin attenuator.
"Premier is ready to take off with Steer Smarts," said Brandon Jackson, purchasing director at Premier Performance. "We're excited to bring on this new line to cater more to the Jeep enthusiasts. Our warehouses are stocked and ready to go."
Premier Performance is stocking Steer Smarts and ready to ship orders immediately. Drop ship is available with no extra fees.
Visit premierwd.com for more information.