News
Premier Performance Now Stocking Pace Edwards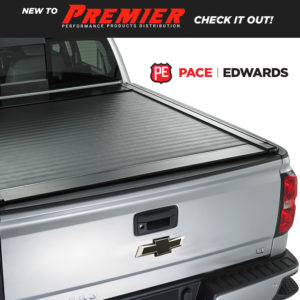 Premier Performance Products Distribution is now stocking and shipping Pace Edwards, a manufacturer of rigid retractable truck bed covers.
Pace Edwards created its original retractable tonneau truck bed cover nearly 30 years ago. The brand has continued to grow, featuring products such as the Bed Locker Electric, UltraGroove Metal Retractable Tonneau, UltraGroove Electric, Full-Metal Jack Rabbit and Switchblade Metal. The Bed Locker and UltraGroove Electric are both hands-free, remote-operated tonneau covers.
A Pace Edwards truck bed cover actually increases fuel efficiency by 7 to 10 percent by improving vehicle aerodynamics, according to the company.
"We are thrilled to bring Pace Edwards to our ever-growing line card," said Derek Tingey, category manager at Premier Performance. "Pace Edwards has shown commitment to developing a quality product in the industry, and that fits with our mission at Premier: providing the best lineup of parts and accessories for your whole truck."