News
Premier Performance Now Stocking Lucas Oil Products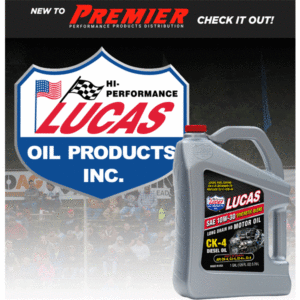 Rexburg, Idaho-based Premier Performance Products Distribution is now stocking Lucas Oil Products.
Lucas Oil Products is known throughout the industry for a line of oils and greases, but the company also provides problem-solving additives for the market. Lucas Oil also produces products for the industrial and agricultural markets.
"We are excited to add Lucas Oil Products to our Premier line card," said Eric Brusman, category manager at Premier Performance. "Lucas Oil provides top-of-the-line products, like Plus Racing Oil, which is designed for drag racing and sled pulling applications putting out 1,500 horsepower and above. It is available in 50 Plus and 60 Plus weights. This product is fresh to Premier and we stock it well."
Premier Performance is now stocking Lucas Oil Products and is ready to ship orders immediately.