News
Premier Performance Now Stocking Black Rhino Wheels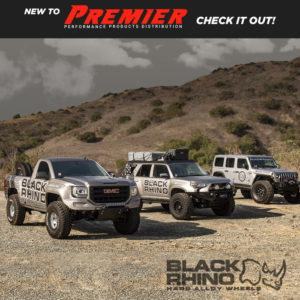 Premier Performance Products Distribution is now stocking and shipping Black Rhino Wheels, a manufacturer of hardened alloy wheels for trucks and SUVs.
Black Rhino Wheels provides two different types of wheels: a negative offset and a positive offset. For off-highway applications, offsets up to -12mm are available and for the wide, aggressive stance preferred by city truck tuners, offsets from 0mm to +35mm are available.
The wheels come in a variety 17-, 18-, 20-, 22-, and 24-inch sizes with an assortment of finishes, including black matte, chrome, Gunmetal, silver, and more.
"Premier is excited to bring on first-class wheels like Black Rhino," said Derek Tingey, category manager at Premier Performance. "Black Rhino Wheels offers a great selection of off-road and street friendly wheels that will be very beneficial for many of our dealers. We look forward to the opportunities from being partners with Black Rhino Wheels."