News
Premier Performance Now Stocking BFGoodrich Tires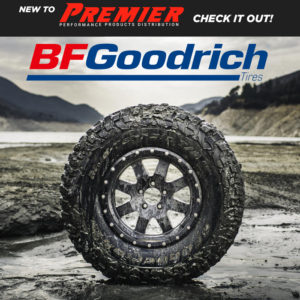 Premier Performance Products Distribution, a wholesale distributor of aftermarket automotive parts primarily serving the light truck and off-road segments, is now stocking and shipping BFGoodrich, a line of tires manufactured by Michelin.
Michelin Tires produces tires for virtually every category of the vehicle market, including BFGoodrich tires. BFGoodrich brings technical expertise and 45 years of motorsports experience to the market, according to the company.
It produces tires for ultra-high performance on the street and for off-road terrain for extreme performance. BFGoodrich tires promise greater grip, acceleration, and toughness for drivers, including the all-new BFGoodrich KM3, a next-generation model that is designed to tackle mud and built to climb.
"BFGoodrich is going to be great for Premier," said Brandon Jackson, purchasing director at Premier Performance. "BFGoodrich brings great expertise and is known throughout the industry for racing and other motorsports events. We are excited to team up with more enthusiasts."
Orders are ready to ship immediately.