News
Premier Performance Now Stocking Alcon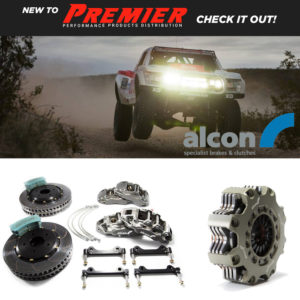 Premier Performance Products Distribution, a wholesale distributor of aftermarket automotive parts primarily serving the light truck and off-road segments, is now stocking and shipping Alcon, a manufacturer of specialist brakes and clutches.
Alcon was established in 1983 by engineer and sports car racer John Moore with a mission to keep up with technological advancements, according to a press release. As such, it provides innovative braking solutions for electric performance cars, low-carbon taxis, electric motorsports vehicles and other specialist solutions.
It also offer products for motorsports and performance road vehicles, including Jeeps and Ford Raptors.
"Premier is proud to add Alcon to our line card," said Brandon Jackson, purchasing director. "Not only does Alcon bring innovative products, but they come with a wealth of knowledge, skill, and expertise-"making them a great partner for Premier!"
Products offered through Premier include brake kits, rotor kits, brake pad axle sets, pad retainer pin kits, rotor assemblies and more. Orders are ready to ship immediately, and drop shipping is available with no extra fees.