News
Premier Performance Now Stocking AirBedz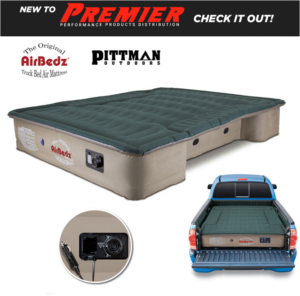 Premier Performance Products Distribution is now stocking and shipping AirBedz, a manufacturer of truck bed air mattresses.
AirBedz mattresses come in different sizes to fit mid-size and full-size trucks in long and short bed layouts. Each mattress is designed with cutouts on each side to allow the air mattress to fit around and over the wheel-well in the truck bed. An integrated air coil system evenly distributes weight across the 12-inch thick mattress for added comfort.
AirBedz also provides Wheel Well Inserts to convert the AirBedz mattress into a regular mattress for use in tents or as a guest bed in the home, according to the company.
"AirBedz truck bed air mattress will be an excellent addition to our line card," said Derek Tingey, category manager at Premier Performance. "This is the original truck bed air mattress, and we are excited to offer this type of product for our dealers."