News
Prefix Becomes Exclusive Supplier of Trans Am TA2 Choice Engine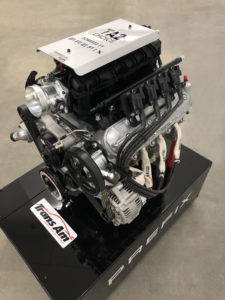 The Trans Am Race Co. has selected Prefix Corp.as the exclusive supplier of the brand new TA2 Choice Engine.
The Choice Engine is a lower-cost engine that performs at the same level as current engines, and is durable as well, according to Prefix. The engine is eligible to be used in all three marques in the TA2 class. The addition of the TA2 Choice Engine does not change the eligibility status of existing certified TA2 Approved Engines built by approved/certified builders and rebuilders.
"This new Choice Engine will have a big impact on our competitors because it brings the costs down significantly, and it will also allow us to continue to have great balance between the three different brands that race in TA2," said Ricky Brooks, technical director of Trans Am TA2. "We expect a motor to be good for an entire season of Trans Am racing, and have a rebuild cost that is half of what it has been in the past.
"These motors will deliver the same kind of performance that our TA2 drivers are used to," Brooks added. "We've also engaged DeLand, Florida-based Koury Inc. as an approved rebuilder to give our competitors another choice in terms of geography of where they are getting the rebuilds done and that can also be factored into the cost savings.
"Additionally, Prefix will support the rest of the country with rebuilds by offering a cost neutral shipping solution regardless of where a competitor is located within the continental U.S. to accommodate the growing interest in the West as a result of Trans Am's West Coast Championship."
Michigan-based Prefix Corp. is a recognized leader in the creation of prototype designs, mock-ups, and full scale concept vehicles for the automotive and aviation industries. Prefix is an approved engine builder and rebuilder (AEBR) for the Trans Am series with a reputation for solid performing and reliable engines. It currently builds all three (Chevy, Dodge, and Ford) race engines for the series.
Prefix is no stranger to the Trans Am paddock. The company currently builds all three (Chevy, Dodge and Ford) race engines, and has a reputation for top performing and reliable engines.
"TA2 is a fantastic technical rules platform, but engine costs were becoming an issue," said John Clagett, Trans Am Race Co. president. "It was over a yearlong process to evaluate current engine cost, and then establish an appropriate course of action. We were approached by current engine builders with various concepts and decided to move forward with Prefix as representing the best solution. There has been extensive testing, dyno time, and at-track testing to assure performance and longevity of the Prefix TA2 Choice engine."
Prefix celebrates 40 years in business this year. The Prefix Performance division provides experienced engine design, engineering, development and testing for OEMs, professional race teams, and specialty industry projects, according to the company.
"We are extremely proud of the work our Performance team has done to support the Trans Am series, and value the relationships and opportunities that our involvement has provided," said Kim Zeile, Prefix founder and CEO.
The addition of the TA2 Choice Engine does not change the eligibility status of existing certified TA2 Approved Engines built by approved/certified builders and rebuilders.
"There will be a two-year window of eligibility for all of our current engine providers, which was another key part of this so that our competitors are not forced to go out and buy something new just because of a rule change," Clagett said. "They have two full seasons of competition with our current package. But teams can place an order to get on the list starting on Monday, and I suspect that this will be a very popular choice."
Mike Cope Racing and Howe Racing Enterprises will continue to provide the Chevrolet Camaro, Ford Mustang, and Dodge Challenger race chassis as the TA2 class continues to grow, while Five Star Race Car Bodies remains the constructor of bodywork.
The 2019 Trans Am presented by Pirelli will return to race action at Michelin Raceway Road Atlanta on March 29-31.