News
Pre-Orders Open for Mopar's 1,000-Horsepower Crate Engine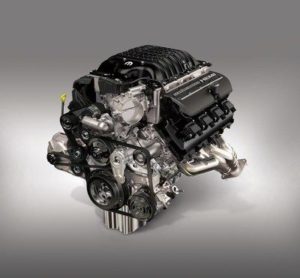 Mopar has started pre-orders for the 1,000-horsepower Hellephant 426 Supercharged Crate HEMI Engine and Kit. The Hellephant, pushing 1,000-horsepower and a 950 lb.-ft. of torque, was unveiled at the SEMA Show last fall in Las Vegas.
The engine's MSRP is marked at $29,995, according to Mopar. Pre-ordering information will be available through cratehemi.com.
The Hellephant Engine Kit, also open for pre-orders, provides relatively easy plug-and-play for experienced installers at an MSRP of $2,265, according to Mopar.
Complementary products available include the Front End Accessory Drive (FEAD) Kit, A/C Expansion Kit, Exhaust Manifold Kit, Rear Sump Oil Pan Kit and 45-degree Oil Filter.
The Hellephant 426 Supercharged Crate HEMI Engine features bulked-up displacement, 4 inches of stroke, and bore specs at 4.125 inches. A supercharger with a high-efficiency rotor set is mounted on the all-aluminum block. The choice to use aluminum delivers significant weight savings to keep the engine light, according to Mopar.
The 426 HEMI engine is nicknamed Hellephant for its power and size, and pays homage to the 707-horsepower Mopar Hellcrate Engine, revealed at the 2017 SEMA Show
The complete engine assembly includes a water pump, flywheel, front sump oil pan, supercharger with throttle body, fuel injectors and coil packs. The engine can be paired with the Mopar Hellephant 426 Supercharged Mopar Crate HEMI Engine Kit for relatively simple plug-and-play by experienced installers. The engine assembly and kit are designed for installation on pre-1976 street and off-road vehicles.
Dropping in the Hellephant is almost turnkey with the engine kit, which includes a powertrain control module (PCM), power distribution center, engine wiring harness, chassis harness, accelerator pedal, ground jumper, oxygen sensors, charge air temperature sensors, fuel pump control module and CAN bus interface device. The kit ships in unique packaging featuring the Hellephant logo, according to Mopa. The package also includes in-depth information sheets with helpful installation tips and requirements.