News
PPG Promotes Adventure, Top Artists at SEMA Show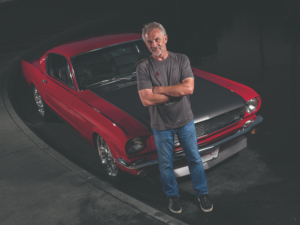 PPG booth visitors during the Oct. 30-Nov. 2 SEMA Show are in for an adventure, according to the company. The PPG booth (No. 24601)-known for celebrating a different theme every year-will feature custom vehicles, distinctive artwork pieces and other surprises.
PPG will have more than 30 of the custom car world's top artists participating in one fashion or another in its booth this year, according to the company.
"Our goal is to always have fun with the booth and appeal to different customer senses," said Cristina Fronzaglia-Murray, PPG director, marketing communications, automotive refinish. "People experience things in different ways, so we hope to resonate with a couple of their senses. We take our paint offerings seriously, but we know the wonders that can be created with a little imagination. It's always fun to see people react to the artwork."
Top industry names mingling in the PPG booth will include Charley Hutton, Bobby Alloway, and Tom and Mitch Kelly. Each year, the Kelly father and son duo design an exclusive collectible poster for the show for PPG.
"Honestly I'm still humbled to be a part of the PPG booth," Hutton said. "It's always the buzz around SEMA. PPG knocks it out of the park with its themes and exhibits. And I love meeting other painters and craftspeople from around the country and the world. Regardless of what language you speak, we all have the same love of the automobile. If I can answer one question or give other painters advice that helps them, then SEMA is a success for me."
The PPG booth also will host the John Force Racing Team, and Tasca Racing. Kenny Youngblood, one of drag racing's most talented graphic artists, also will be at the booth with his latest creations. In addition, Mark Worman and team from the Graveyard Carz reality TV series will be onhand to sign autographs.
Here is PPG's booth appearance schedule for the SEMA Show:
Tuesday, Oct. 30
10-11 a.m.-Charley Hutton, Charley Hutton's Color Studio
2:30-3:30 p.m.-Tom and Mitch Kelly, Kelly & Son Crazy Painters
3:30-4:30 p.m.-Kenny Youngblood, Youngblood Art/Motorsport Gallery
Wednesday, Oct. 31
9-10 a.m.-Kenny Youngblood, Youngblood Art/Motorsport Gallery
10-11 a.m.-Tom and Mitch Kelly, Kelly & Son Crazy Painters
11 a.m.-noon-Mark Worman, Will Scott and Allysa Rose, Graveyard Carz
Noon-1 p.m.-Bobby Alloway, Alloway's Hot Rod Shop
1-2 p.m.-Bob Tasca, Tasca Racing
2-3 p.m.-Charley Hutton, Charley Hutton's Color Studio
Thursday, Nov. 1
10-11 a.m.-Kenny Youngblood, Youngblood Art/Motorsport Gallery
Noon-1 p.m.-Charley Hutton, Charley Hutton's Color Studio
2-3 p.m.-Bobby Alloway, Alloway's Hot Rod Shop
3-4 p.m.-Tom and Mitch Kelly, Kelly & Son Crazy Painters
Friday, Nov. 2
10-11 a.m.-Tom and Mitch Kelly, Kelly & Son Crazy Painters
11 a.m.-noon-Kenny Youngblood, Youngblood Art/Motorsport Gallery