News
Pirelli Design Launches Motorsport-Inspired Speaker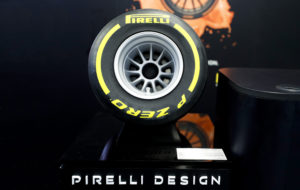 Pirelli has joined forces with IXOOST, an Italian firm from Modena that specializes in high-end car audio. The partnership will be leveraged "to create a new sound experience inspired by motorsport," according to a Pirelli news release.
The resulting hi-fi system includes a Bluetooth speaker within a replica Wind Tunnel Tire made by Pirelli for Formula 1 Teams to conduct aerodynamic testing. The wind tunnel is a vital tool for Formula 1 teams to study every aspect of air flow.
PIRELLI P ZERO sound by IXOOST was born from the scale-model F1 Wind Tunnel tire. The acoustic system includes an amplifier with a 100-watt digital signal processor and is equipped with a 100-millimeter midwoofer, as well as a 25-millimeter silk tweeter. The system is made entirely in Italy by IXOOST, featuring hand-crafted unique touches and attention to detail, according to Pirelli.
With 4.0 Bluetooth APTX technology, PIRELLI P ZERO sound can connect wirelessly to smartphones and other compatible devices.
PIRELLI P ZERO Sound is available in nine different colors that reflect those used to distinguish the different racing compounds. The new speaker was previewed at the FORMULA 1 PIRELLI GRAND PRIX DE FRANCE 2018. PIRELLI P ZERO sound will be seen in the F1 Pirelli Hot Laps garage during other Grand Prixs this year.